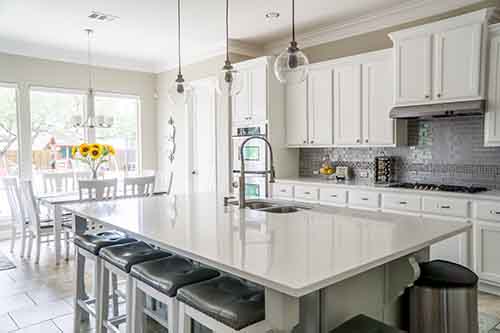 HOME RENOVATIONS: WHAT TO TACKLE, AND HOW TO FINANCE
As we approach a new year, many homeowners start to think about ways to spruce up their homes. Considering how much time we spend at home, it's no surprise that many of us are considering some kind of upgrade. A 2017 study conducted by Forbes estimated homeowners spent an average of $60,400 on home renovations in 2016, which was up from an average of $59,800 in 2015. When this group was filtered to look specifically at Millennial spending, their average—though lower overall—was up 7% in 2016 as compared to 2015. The age group spending the most on average was homeowners 55 and older. They spent around three times as much as Millennials.
Most Common Renovation Projects
Where is all this money being spent? It's probably no surprise that the top two areas most likely to be renovated are kitchens and bathrooms. Not only are these areas notorious for making or breaking a sale, but they can also become outdated more quickly than other areas of the home. Unfortunately, they also tend to be more expensive than some other renovation projects.
Kitchen Projects
With an average price tag of nearly $23,000, kitchen remodels are no small undertaking. In fact, when priced by the square foot, the average comes out to $150. If you are looking at a complete overhaul, including new custom cabinets, flooring, and high-end appliances, you can expect to spend closer to $30,000. Kitchens are generally thought of as the heart of the home, the main gathering place, so it makes sense the put the effort into a comfortable and functional design.
Kitchen ROI
Most homeowners—especially those who are preparing to sell their homes soon—want to know how much of their investment they can expect to get back when they sell. Specific results vary greatly depending on many factors, including:
Specific housing market: the "hotter" the market, the better the return on upgrades
Quality of the work done: DIYers who don't have the skill set to tackle the projects may find they strike out with buyers. However, if you do have the right skills, you can see a much higher return. This is because you will save money in the process of completing the renovations.
Improving the "right amount" for the neighborhood and house value: as a guideline, industry experts recommend not spending more than 10-15% of the house's current value on the kitchen remodel. Otherwise, you risk over-improving for the neighborhood, which will not get you your money back if you are looking to recoup your investment in full.
Bathroom Renovations
Bathroom renovations are less expensive than kitchens only because they are smaller spaces without major appliances. High-end flooring and counters, custom showers, and heated floors are all very popular additions, but they all come at a price. But like kitchens, updated bathrooms sell houses. When done well, homeowners can see a full return on their investment. Hopefully, though, you will get time to enjoy your efforts.
When deciding how much to put into your bathroom remodel, a good rule of thumb is to not spend more than 5-10% of the value of your home. You can expect half of your remodel budget to go into labor, cabinetry and hardware, and fixtures. The rest will be split between faucets and plumbing, countertops, flooring, doors, walls, lighting and ventilation, and design fees, to name a few.
Bathroom ROI
Your return on investment may not be as high here as with a renovated kitchen. On average, the National Kitchen and Bath Association estimated a 56-62% return on bathrooms, while kitchens often came in at (or near) 100%. As with kitchens, if you do some of the work yourself you can keep costs under control. But do not do that if you lack the skill set to pull off a professional-quality job. Home renovations tend to be big projects best left to those who have done this type of work before.
Beyond Kitchens and Baths
There is a lot more to your house than the kitchen and bathrooms. While these remodeling projects are the most fun to enjoy after they're finished, your investment will be for nothing if you neglected the leaking roof or the cracked foundation. Before you get too attached to your renovation plans, make sure you aren't overlooking a bigger issue. A new furnace or roof may not be as much fun as in-floor heating in the master bathroom, but these are necessary upgrades. If you are considering selling your house soon, the buyer's home inspection will flag these items. Even if you are staying put for the long haul, you need to protect your house from water damage that can be caused by roof leaks, and you certainly want to make sure you have cold air conditioning in the summers, and heat in the winters.
Financing Home Renovations
When it comes to paying for home renovations, you have several options. Each has pros and cons. You will need to decide for yourself which of these is the best option based on your individual circumstances, long-term plans, and budgetary considerations.
Cash
Cash is king, as they say. If you have the cash on hand to finance your home renovations, you will avoid paying interest along the way. Even if you can pay for part of the project with cash, that may be better than financing, unless you are pulling cash from an interest-bearing account where it is earning more interest than what you might be paying out via a financing option.
Home Equity Line of Credit (HELOC)
Getting a HELOC is perhaps the most common form of financing home renovations when cash is not an option. These lines of credit are a way to borrow against the equity you already have in your home. Usually, you are limited to 80% of the house's value (minus whatever you still owe on your house). So if your mortgage was for $300,000, and you have paid off half of that, you have $150,000 in equity. But a HELOC will only let you borrow $90,000.
$300,000 x .8 = $240,000
$240,000
– $150,000 still owed on mortgage
$90,000 available via HELOC
Home Equity Loan
With a loan against your home equity, you get a lump sum, rather than an ongoing line of credit to pull from. The advantage to the loan is that you do not have to go through the refinancing process. The downside is that this is a second mortgage and therefore likely carries a higher interest rate.
Mortgage Refinance
When talking about refinancing your mortgage, you have two options. First, you can refinance to a lower interest rate. This lowers your monthly payment. You can simply set aside the difference until you can afford to take on the renovation project.
The other option is to do a cash-out refinance. In this scenario, you use the equity in your house to replace your old mortgage with a new one. You can withdraw some of that equity in the process. To use our previous example, if you initially financed a $300,000 house, but you now only owe $150,000, you have $150,000 in equity (assuming the market has held steady). Interest rates dropped a bit, and if you refinance you can do so at a better rate. But instead of refinancing the $150,000 remaining, you refinance for $200,000. You receive a check for the $50,000, which you use for your renovation project. Just keep in mind that you need to have enough equity in your house for lenders to permit you to cash out. Most will want at least 20%.
Personal Loans and Credit Cards
If you can't—or don't want to—use the equity in your house, you can secure a personal loan instead. This way, you are not putting your house up as collateral. However, the interest rates are usually higher, and the time to repay the loan is shorter. This means higher monthly payments. But it can be a good option depending on your personal circumstances.
Credit cards are also an option, but like personal loans, the interest rates are generally high. You will want to be in a position to pay off the balance very quickly. Some cards may offer short-term 0% interest but resist the urge to open a new account, especially if you are considering buying a new home soon since each new credit card account brings with it a credit check.
The Big Picture
When it comes to home renovations, there are a lot of factors to consider. From deciding where to put your money, to deciding how to fund your project, home renovations are complex. Before you begin, make sure you are doing it for the right reasons, and with the right plan in mind. This will save you headaches along the way and keep the project on track. Then you can enjoy your final product sooner.