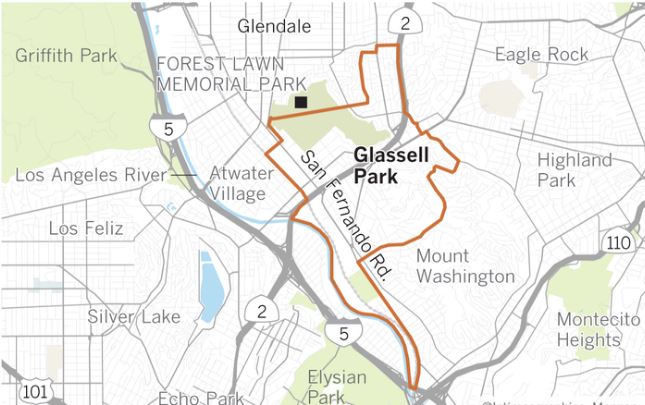 UP-AND-COMING LA NEIGHBORHOODS: GLASSELL PARK
As we continue our series on up-and-coming neighborhoods in the greater Los Angeles area, we are sticking to the northeast. Glassell Park, situated west of Highland Park and north of Elysian Park, can trace its roots back to 1784. This is when the 36,000-acre Rancho San Rafael was gifted to Jose Maria Verdugo by the governor of California. Verdugo was a corporal in the Spanish Army at the time, and he heard the governor of California was giving parcels of land, and he had an interest in acquiring property for cattle. Eventually, Verdugo's family took control of the land after his passing in 1831. Later, in 1870, the government parceled the land. Ultimately, it became what is now Eagle Rock, Atwater Village, Highland Park, and Glassell Park.
Glassell Park
Glassell Park owes its name to Andrew Glassell, one of the attorneys involved in the splitting up of the original Verdugo land. Its proximity to the Eagle Rock line of the Los Angeles Railway was perfect for railway workers and their families. Glassell named many of the original streets after his children. Today, nearly 35,000 people call it home. Bungalow-style homes and quaint streets give this town its personality. It is also attracting attention for its relative affordability and proximity to all Los Angeles has to offer. With the Glendale Freeway providing quick access to I-5 and several other key interstates, its location is great for commuters as well.
What Stands Out Most
What stands out most about Glassell Park is Rio de Los Angeles State Park. Home to natural wetlands and sports facilities alike, Rio de Los Angeles State Park has something for everyone. Hiking trails, playgrounds, a splash pad, picnic facilities, basketball courts, and ballfields serve virtually every member of the community. Formerly Taylor Yard, the park's 247 acres provide a welcome green space where families and outdoors enthusiasts can relax and unwind. Additionally, local gems like the Forest Lawn Museum, Verdugo Bar, and Street Food Cinema provide an array of entertainment options.
Housing Prices
Currently, Glassell Park homes that are listed for sale have a median price of $739k, with a median sold price of $802.5k. It is comparable to homes in nearby Highland Park, which we covered in a previous post. Both areas are looking strong in the real estate market while remaining more affordable than many of the surrounding areas. Industry experts expect home values to increase this year. For anyone considering Glassell Park for their next home, now is the time to act.
Looking Ahead
In 2019, Glassell Park is likely to remain a popular town for families looking for affordable, up-and-coming neighborhoods with a lot of established amenities. From parks and recreation facilities to great local restaurants, there is a lot to love here. Glassell Park is making a name for itself as a great place to live. If it is not already on your list, it should be.