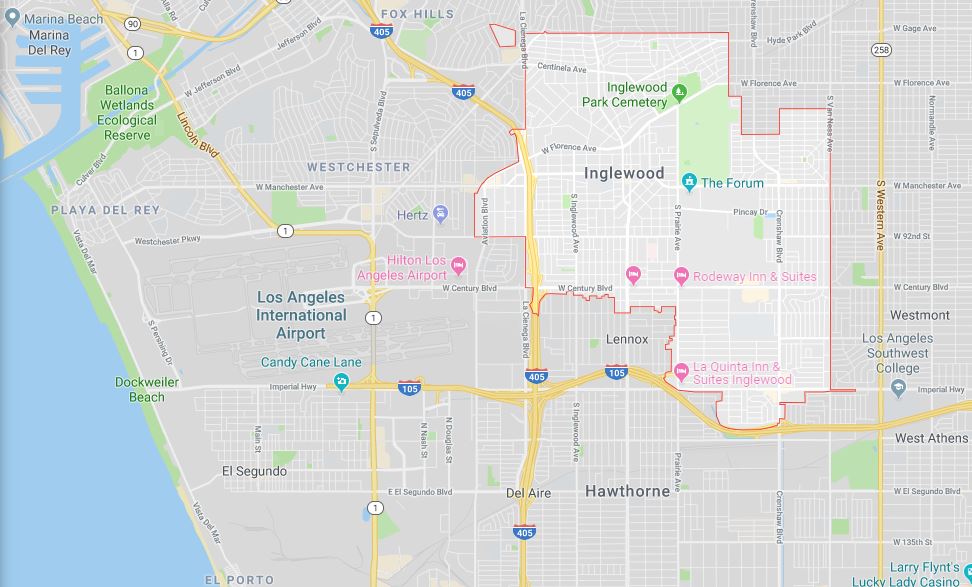 UP-AND-COMING LA NEIGHBORHOODS: INGLEWOOD
For the next installment of our Up-and-Coming series, we head southwest of downtown Los Angeles. If you are looking for an area that is not only making big changes now but has more on the horizon, Inglewood may fit the bill.
Inglewood
Inglewood is one of the largest areas we have covered so far, with a population of around 110,000. It borders the 405 and the 105, with great proximity to LAX and downtown Los Angeles. Inglewood's rise in popularity in the 1920s started with a severe earthquake that hit the region in 1920. People who traveled here to see the damage firsthand ended up staying. It didn't hurt that developers discovered oil in the 1930s, either. The area continued to grow post-World War II. In the 1960s, desegregation led to many white residents moving out of the area. Today, Inglewood is predominantly Hispanic and African-American.
What Stands Out Most
This pocket of Los Angeles is currently building a new football stadium, which will be home to the Los Angeles Rams and the Los Angeles Chargers. Though recent weather delays have pushed back its opening to the 2020 season, progress on the construction has already started to make a positive impact in this area. Additionally, real estate development projects like the Grace Park Condo Project will add needed housing to this neighborhood. Located on the former Inglewood Hospital site, these detached condos inside the master-planned Grace Park community are expected to be completed later in 2019. As an added bonus, Grace Park is just half a mile from the new stadium.
Housing Prices
If you have read any of our previous posts in this series, you can assume real estate values in Inglewood are on the rise. Inglewood is already seeing increases in housing values because of the football stadium and other large-scale projects currently underway. While the current median home price is a little over $542,000, this represents a 34% increase between where values were prior to the stadium announcement and June of 2018. That median value still makes this area more affordable than that of LA County ($609,400). But don't expect that to remain the case.
The Future
Though several major Inglewood projects have suffered delays, all signs point to great things in the next several years. The Crenshaw/LAX metro line that was slated for later in 2019 will open in the summer of 2020. As the stadium and condo projects are completed, the metro will become increasingly important in residents' ability to commute across the city. This line will connect to the Green Line, south of downtown LA. Between freeway and rail access, city amenities, quick access to beaches, and LAX, Inglewood has a lot to offer.